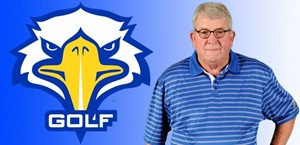 MOREHEAD, Ky. — Dr. Rex Chaney, who has been associated with Morehead State since 1953, is retiring from the university. Chaney, who previously coached the Eagles in men's basketball and baseball, has spent the past 38 years as MSU's head men's golf coach.
"We are incredibly grateful to Rex and his family for all of their contributions to Morehead State," Director of Athletics Brian Hutchinson said. "Rex is already a Hall of Famer and will always be an Eagle. He has meant so much to thousands of people over the years."
Chaney was tabbed as the Ohio Valley Conference Men's Golf Coach of the Year after Morehead State captured league championships in 1977, 1981, 1993 and 1999. He also directed the Eagles to six other top-three finishes at the annual league tournament.
Chaney coached 20 All-OVC selections, six All-OVC Tournament honorees, six conference-tournament runners-up, three league-tournament medalists and two OVC Players of the Year. The group includes current PGA Tour member Josh Teater.
Chaney spent seven years as head baseball coach and four as an assistant men's basketball coach. He led the Eagles to a 111-56 (.665) baseball record from 1961-67. The OVC's 1963 Baseball Coach of the Year guided MSU to at least a share of the league's east division crown in 1961, 1962, 1963 and 1964.
"It's hard to say if Morehead State will ever have another individual like Rex," Hutchinson said. "His contributions, for more than 50 years, speak to his work ethic, loyalty and dedication. Rex has a very impressive working resume, and he's an even better person. He will definitely be missed."
Chaney was inducted into the prestigious Morehead State Athletic Hall of Fame in 2000. The mentor holds bachelor's and master's degrees from Morehead State, in addition to a doctorate from Indiana University. He joined MSU's Health, Physical Education and Recreation faculty in 1961.
Originally from Perry County, Ky., Chaney is married to the former Sarah Kidwell of Bardstown, Ky. The couple has one daughter (Jennifer), one son (Lee) and two grandchildren (Eric and Olivia). Lee finished his golf career with the Eagles in 2009 and continues to play professionally.
[adsenseyu1]
Comments
comments