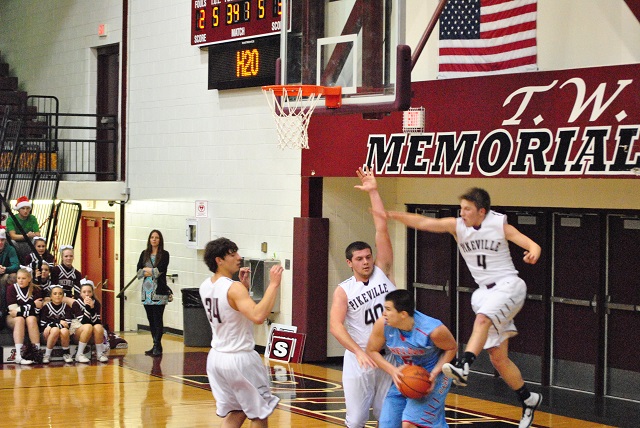 Pikeville, Ky- Sheldon Clark, led by Chase Parsley and his 26 point performance, knocked off the Panthers 60-52 Tuesday night at the W.C. Hambley Athletic Complex. Parsley's performance was enough to keep the Cardinals ahead of the Panthers throughout the game. In a physical played game, the Cardinals defense shut the Panthers shooting down and Parsley appeared to be all over the court with his quick hands and superior defense.
The Panthers were able to climb within 2 points in the 3rd quarter, but could not get any closer. Pikeville was led in scoring by Zach Huffman, who scored 26 points and pulled down 7 rebounds. The Panthers shot 15-24 from the free throw line, down from their last 3 performances. Blaine May also added 14 points for the Panthers.
The defense of the Cardinals kept the Panthers field goal percentages down , keeping the Panthers shooting 5-18 from the 3 point line. The Panthers poor field goal performance also kept them behind most of the game, only shooting 11/26 from the field.
Sheldon Clark's impressive performance from Chase was followed up with support by 13 from Kaleb Sturgill and 13 from Dylan James. The Cardinals shot well from the free throw line hitting 11/16, a 69% performance from the line.
The Panthers fall to 4-3 and will face Boyd County at Raceland on December 20th. Frank Smith's Sheldon Clark Cardinals move on to a perfect 5-0 and will travel to Tug Valley, WV on Dec. 20th.

// </script
Comments
comments