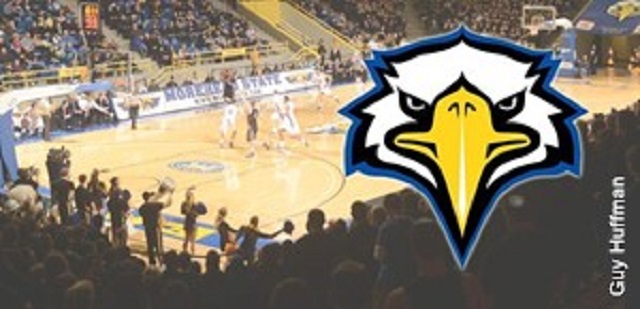 MOREHEAD, Ky. — The Morehead State men's basketball team opens a three-game Ohio Valley Conference homestand on Saturday when it hosts rival Eastern Kentucky. Tip-off from Johnson Arena is set for approximately 4:30 p.m. ET. The contest will follow the Eagles and Colonels in women's basketball at 2 p.m.
The Eagles, who have won three straight contests for the first time this season, are 10-13 overall, 5-3 in league play and 3-5 at home. The Colonels, who are on a three-game skid for the second time in 2014-15, are 11-9 overall, 3-4 in conference action and 6-6 on the road. Both squads are in the OVC's East Division.
Eastern Kentucky owns a 106-76 advantage in the all-time men's basketball series against Morehead State. The teams split last year's two-game series, with each club winning on the road. Angelo Warner, now a senior at Morehead State, poured in a career-high 33 points in the Feb. 8 tilt at McBrayer Arena.
The doubleheader is being dubbed as a "Gold Rush." The first 250 fans to each contest will receive a free t-shirt, courtesy of St. Claire Regional Medical Center. Adult tickets begin at just $8, while tickets for children 12-and-under start at $3. Parking is only $5 per vehicle. Click here to purchase tickets on-line.
[adsenseyu3]
Ways to follow the game:
LIVE VIDEO | LIVE AUDIO (CPU) | LIVE AUDIO (mobile) | LIVE STATS | TWITTER
The game will be televised live by Hazard's This TV and the CW Lexington. Click here for more information. Tanner Hesterberg will call the TV play-by-play, while Jim Frasure serves as the analyst and Anthony Bersaglia covers the sidelines. The contest will be streamed live and free of charge on OVCDigitalNetwork.com. The video production, which is coordinated by Eagle Vision, will include multiple cameras, replays, graphics and audio. The tilt will also be broadcast on the Eagle Sports Network, with Chuck Mraz calling the play-by-play and Jason Blanton serving as the analyst. The radio network includes WIVY-96.3 FM in Morehead, WCBJ-103.7 FM in Campton, WLGC-1520 AM in Ashland/Greenup, MSUEagles.com (computers), m.Morehead.EZStream.com (mobile devices) and the Eagle Empire App.
Releases and pre-game information:
MOREHEAD STATE | EASTERN KENTUCKY | OHIO VALLEY CONFERENCE
Ten notes heading into the contest:
THE MAN FROM ISRAEL
Senior Karam Mashour registered a career-best 24 points in Wednesday's 82-69 win at Austin Peay. The forward, in his 25th contest at Morehead State, made 10-of-15 from the field and 4-of-4 from the free-throw line. He also pulled down seven rebounds.
DOUBLE-DOUBLE TIME
Senior Kareem Storey and junior Brent Arrington posted their first career double-doubles at Austin Peay. Storey, in his 52nd game as an Eagle, recorded 13 points and 12 assists. Arrington, in his 57th tilt at Morehead State, tallied 16 points and 10 boards.
BACK IN THE ACTION
Senior Jalen Courtney, who missed the team's first 22 games after procedures on both knees, made his Morehead State debut at Austin Peay. The forward played three years (2010-13) at LSU before sitting out last season (2013-14) at MSU as a transfer.
DOMINATING THE PAINT
Morehead State's first 16 points at Austin Peay came in the lane. The Eagles recorded a 28-8 advantage in paint points during the first half and 56-14 upper hand for the night. MSU is averaging 32.4 paint points this season, while allowing just 25.0 per contest.
TOO MANY WHISTLES
Morehead State committed a season-high 30 fouls, including 22 in the second half, at Austin Peay. The Governors attempted 44 free throws in the contest, including 39 after intermission. At one point, APSU scored 14 consecutive points from the foul line.
IT'S OFFICIALLY A STREAK
Morehead State, which has won a season-best three straight games (all on the road), improved to 10-13 overall and 5-3 in the Ohio Valley Conference on Wednesday. The Eagles registered two winning streaks of three games or longer last season.
WINNING THEM BOTH
Morehead State has posted three Ohio Valley Conference road sweeps in three seasons under Head Coach Sean Woods. Using just eight players, the Eagles registered a 78-74 victory on Jan. 22 at Tennessee Tech and 66-63 win on Jan. 24 at Jacksonville State.
KNOCKING DOWN TRIFECTAS
Morehead State drilled 9-of-12 from three-point range in the first half at Jacksonville State. The Eagles finished at 69 percent (11-of-16). The 11 long-range buckets marked MSU's best effort since knocking down 17 against South Dakota on Dec. 19, 2013.
REBOUNDING IS WHAT WE DO
Morehead State has led the Ohio Valley Conference in rebounding margin six straight seasons (2008-14), paced the league in rebounds five of the last six years and had the conference's top individual four of the past six seasons. MSU leads the OVC in rebounding margin (+4.7) this year, while ranking second in boards per game (36.0).
MORE ON THE GLASS CLEANING
Morehead State is +60 in total rebounds, +47 in offensive rebounds and +35 in second-chance points over its last nine games. The Eagles have only been outrebounded once during the stretch and six times in 23 affairs this season. MSU has five individuals averaging at least 4.0 rebounds this year, but only had three at this point last season.
Comments
comments