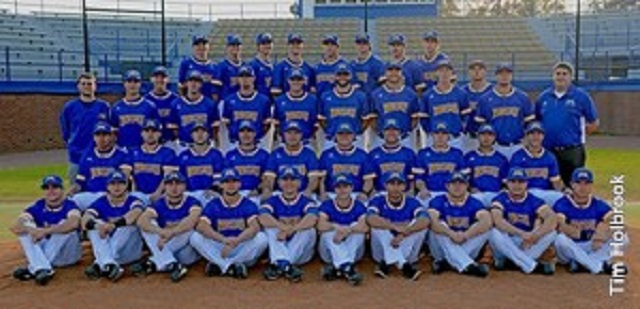 MARTIN, Tenn. – On the strength of four home runs Sunday, the Morehead State baseball team established a program-record with its 10th straight win. The Eagles handed host UT Martin a 17-7 defeat at Skyhawk Park.
Morehead State, which has scored double-digit runs in eight of the 10 wins in the streak, improved to 21-13 overall, 8-7 in the Ohio Valley Conference and 12-0 against UTM in the last four seasons. The 1985 and 1991 teams previously held the school standard with nine consecutive wins. The Skyhawks, who have dropped seven of their last nine games, fell to 10-23 and 5-13 in the league.
"We had a very good weekend," Head Coach Mike McGuire said. "Anytime you can go on the road and sweep a series, that is crucial. I thought we did a lot of great things today and all weekend, and the few mistakes we made should be easily correctable."
The offense got round-trippers from senior designated hitter Chris Robinson (3-run), rightfielder Brandon Rawe and senior leftfielder Nick Newell (2-run) and senior shortstop Robby Spencer (solo). The Eagles, who plated multiple runs in four innings, led 8-3 after three frames and saw six runs cross the plate in the fifth.
Senior first baseman Kane Sweeney was 3-for-4 today with a team-high four RBI. He finished the weekend with a .642 batting average (9-for-14) and eight RBI.
The Eagles, who have generated 10+ hits in 10 of the last 11 games, totaled 17 in the series finale. Robinson and Spencer also had three hits, and Robinson and Newell recorded three RBI apiece. Rawe, who has only been held hitless once in the last 23 games, upped his current hitting frenzy to 15 straight contests.
Spencer, Newell and sophomore centerfielder Ryan Kent are now sporting 13-game hitting streaks, and seven different players also now have double-digit reached-base streaks intact.
Rawe touched all four bases in the second frame, Spencer crushed his homer in the third and Robinson and Newell went deep in the fifth.
UT Martin finished with eight hits off four Eagle pitchers. Shortstop Matt Hirsch had a pair of hits, while starting catcher Mikey Nantze nailed a two-run home run in the fourth.
MSU's second hurler, freshman Brent Stoneking, was credited with the win after facing just one batter over the minimum in the middle frames. He fanned four hitters to improve to 2-0.
"Brent did an incredible job of filling up the strike zone for three innings," McGuire said. "He has pitched efficiently lately, and that's why we continue to go with him in those middle-inning relief situations."
Matt Poteete took the loss, surrendering five runs in just two innings.
Morehead State returns home Tuesday to host West Virginia Tech in a game that was recently added to the schedule. First pitch at Allen Field at set for 5 p.m. ET. Live audio will be available on MSUEagles.com and the Eagle Empire app.
Comments
comments