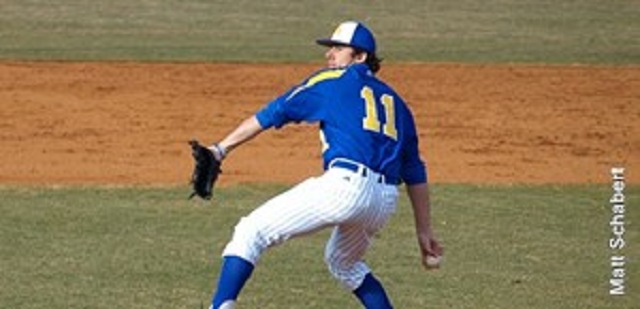 MOREHEAD, Ky. – Junior pitcher Matt Anderson shut out West Virginia Tech in the final four innings for his first career save, and four Morehead State batters had multi-hit outings as the Eagle baseball team knocked off the Golden Bears 7-4 Tuesday at Allen Field for a nation-leading 11th straight victory.
Morehead State, which is tied with Big 10 member Illinois for the nation's longest current winning streak, improved to an Ohio Valley Conference-best 22-13. WVU-Tech, an independent NAIA team, fell to 22-19.
Anderson came on in relief of freshman starter Aaron Leasher, who worked the first five innings, and recorded five strikeouts while allowing just three hits. Leasher surrendered all four WVU-Tech runs but was still credited with the win to improve to 2-2.
"I think we realized tonight that we can't win every game by double digits or get double digit runs every time out," Head Coach Mike McGuire said. "Baseball works that way. We have had tremendous success at the plate lately, but tonight I still felt we swung the bats well. West Virginia Tech deserves some credit. They came ready to play, but we also did too. I felt we got good pitching too. Both Aaron and Matt filled up the strike zone."
Senior right-fielder Brandon Rawe led the team by going 3-for-5 to increase hit hitting streak to 16 games. Sophomore centerfielder Ryan Kent, senior leftfielder Nick Newell and senior shortstop Robby Spencer had two hits each. All three upped their hitting streaks to 14 games, and Spencer led off the bottom of the fourth with his team-best seventh home run to record his team-high 42nd RBI of the season.
Senior first baseman Kane Sweeney had one hit to extend his hitting string to 11 games. His RBI double off the wall in left field scored the initial run in the first inning.
The Golden Bears strung together three doubles in the fourth to tie the contest 2-2 and got a sacrifice fly and an RBI single in the fifth to grab a 4-3 advantage.
The Eagles took the lead for good with a trio of tallies in the fifth. Senior catcher Chris Robinson clubbed a two-run double to right centerfield.
Morehead State travels to Eastern Kentucky for a 6 p.m. ET game Wednesday. It will not be a conference game. Michael Gustin will have audio play-by-play on MSUEagles.com and the Eagle Empire app.
Highlights:

Comments
comments