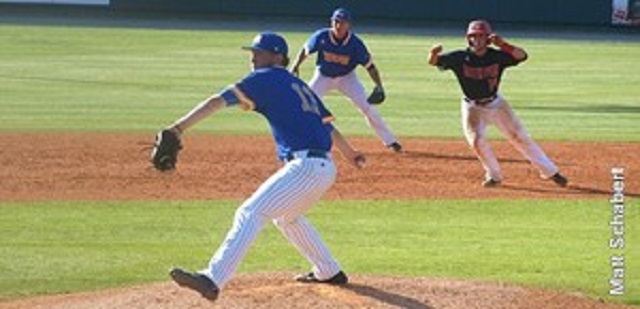 CLARKSVILLE, Tenn. – Junior pitcher Aaron Goe shut down the Austin Peay baseball team for the final three innings, and sophomore centerfielder Ryan Kent had four hits to help propel Morehead State to a 10-5 victory Saturday at Raymond C. Hand Park.
Goe, who is now 5-0 in 2015, entered in the seventh frame and got out of a bases-loaded situation. He coaxed a double play to end the Governors' eighth inning at-bat. Morehead State ended a 20-game losing streak at APSU's field dating back to 2002 as the Eagles improved to 26-17 overall and 12-8 in the Ohio Valley Conference. The Govs slipped to 22-19 overall and 13-10 in the conference.
Morehead State never trailed, building a 3-0 first-inning cushion and pushing that to 5-1 after five frames. The hosts crept back to within 5-4 before Kent smashed a solo homer in the sixth. Austin Peay trailed only 6-5 when Goe entered the game, and MSU put a four-spot on the scoreboard in the ninth.
"This was a hard-fought game between two very good clubs," Head Coach Mike McGuire said. "We had much better at-bats today compared to Friday night, and I felt our pitching came through in this game. Aaron entered in a tough spot and was able to keep his composure and make the right pitches, and our defense backed him up."
Senior shortstop Robby Spencer had three hits, including two doubles, and extended his hitting streak to 21 games. That marks the longest streak in McGuire's three-year tenure. He also upped his reached-base string to 24 games. Senior leftfielder Nick Newell, senior catcher Chris Robinson and senior first baseman Kane Sweeney had two hits apiece, part of a 14-hit attack for the Eagles.
Newell (24), Kent (22) and Sweeney (20) now also all have 20+ game reached-base streaks.
"We got good situational hitting today," McGuire said. "We ask everyone, one through nine in the lineup, to do the things necessary to win and be a successful team, and I think we saw evidence of that today."
Shortstop Garrett Copeland smashed four hits for the Govs, including two doubles, and Ridge Smith, Dre Gleason and Imani Willis contributed two hits each. APSU totaled 12 hits.
Zach Hall (1-6) was pinned with the loss, surrendering six runs in 5.1 innings. Sophomore southpaw Cable Wright and junior righty Tyler Keele also contributed on the mound for MSU.
The rubber match of the series is set for Sunday at 2 p.m. ET. Audio play-by-play will be available on MSUEagles.com and the Eagle Empire app.
Comments
comments