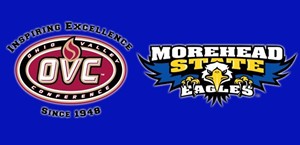 MOREHEAD, Ky. – More than 100 Morehead State student-athletes earned spots on the 2013-14 Ohio Valley Conference Commissioner's Honor Roll, with 16 earning an Academic Medal Of Honor.
The Medal of Honor is given annually to student-athletes who achieve the highest grade point average in a conference-sponsored sport. All those honorees recorded 4.00 grade point averages. To be listed on the honor roll, recipients must achieve at least a 3.25 GPA and be eligible throughout the competitive season.
"It is gratifying that so many of our student-athletes have been honored for their hard work in the classroom," Assistant Athletic Director for Student-Athlete Services and Senior Woman Administrator Sara Larson said. "The commitment they show in the classroom and on the field is outstanding. Academics are a priority for our administrative and coaching staffs. I know our student-athletes continue to make it a priority too, and it shows how much they value their educational and athletic experience here at MSU."
Three Morehead State programs, men's cross country, men's track and field and volleyball, also received the league's Team Academic Awards. All 12 members of the volleyball team earned a spot on the honor roll.
[adsenseyu3]
Medal of Honor Winners
Baseball – Matt Anderson and Dan Hyatt
Women's Cross Country/Track and Field – Karina Manz and Lindsay Marcum
Women's Golf – Sofia Pettersson
Soccer – Kim Borys, Macy Kootz, Lindsey Oettle and Hannah Seeman
Softball – Jamie Massaro
Men's Tennis – Ji Hoon Heo
Volleyball – Colbey Cameron, Laura McDermott, Leslie Schellhaas, Stacy Silver and Courtney Smith
Commissioner's Honor Roll
Baseball
Matt Anderson
Bobby Burns
Luke Humphreys
Dan Hyatt
Clayton Meyer
Craig Pearcy
John Reina
Chris Robinson
Noah Smallwood
Robby Spencer
Kane Sweeney
Jimmy Wright
Men's Basketball
Drew Kelly
Karam Mashour
Chad Posthumus
Kareem Story
Women's Basketball
Mackenzie Arledge
Natalie Greenwell
Casey Ryans
Allie Turner
Men's Cross Country/Track and Field
Stuart Barnes
Evan Childers
Clay Dixon
Zachariah Elliott
Zach Kelsey
Landon Meserve
Gary Monroe
Jesse Moreno
Chase Ratliff
Jeremy Ruppert
Women's Cross Country/Track and Field
Jasmyn Andrews
Mackenzie Butler
Skyler Green
Karina Manz
Lindsay Marcum
Taylor Montgomery
Alex Morris
Haley Mullins
Hannah Mullins
Parker Winters
Men's Golf
Michael Fehrenbacher
Logan Hogge
Brad Martin
Brad Newnam
Michael Pinsonneault
Jared Stacy
Women's Golf
Anna Magnusson
Amalie Schott Munck
So?a Pettersson
Krista Power
Katie Rice
Linnea Scholin
Rifle
Taylor Johnson
Abby Morrison
Kathleen Mulligan
Emma Uchida
Soccer
Kim Borys
Macy Cobb
Hannah Collins
Lauren Duffy
Jade Flory
Caity Fox
Kimberly Golden
Karen Hilt
Macy Kootz
Elizabeth McSparin
Kaitlynn Murphy
Lindsey Oettle
Teig Palmateer
Tonia Parisi
Hannah Seeman
Holly Tilley
McKenzie Ward
Paige Weber
Softball
Jordan Boone
Stephanie Etter
Samantha Howard
Lizzy Margagliotti
Jamie Massaro
Kayla McGuffey
Kelcey McMurray
Kyle Nakama
Katie Raile
Tanna Seuferer
Greta Smeins
Riley Stokes
Karly Thompson
Tressa Watson
Men's Tennis
David Clifford
Ji Hoon Heo
Gabriel Ruiz
Giovanni Samaha
Enrique Samudio
Jack Swindells
Women's Tennis
Andrea LeBlanc
Dominique-Chante Mclean
Briar Preston
Hayley Wild
Volleyball
Aryn Bohannon
Colbey Cameron
Alex Fitzmorris
Laura McDermott
Bailey Nichol
Hope Rillema
Lindsey Roth
Leslie Schellhaas
Sydney Schuler
Hannah Sigala
Stacy Silver
Courtney Smith
[adsenseyu1]
Comments
comments