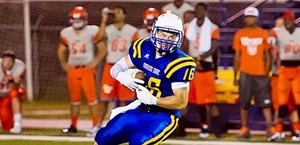 MOREHEAD, Ky. — Morehead State redshirt senior Brandon Bornhauser has been named to the official Preseason All-Pioneer Football League Team as a return specialist.
Bornhauser, a native of Cincinnati, averaged a team-best 26.7 yards per kickoff return in 2013 with a long burst of 64 yards against Dayton. He also caught 16 passes for 138 yards and hauled in touchdown tosses at Valparaiso and Campbell. Bornhauser was utilized in goal-line offensive situations and produced a team-best five rushing touchdowns.
He was named to the official All-PFL Team in 2013 as an honorable mention selection. Bornhauser has also picked up a pair of other honors prior to the 2014 season. He was named Preseason All-America by USA College Football and was listed on the College Football Performance Awards Watch List.
Morehead State opens its 2014 season on Aug. 30 at Colonial Athletic Association member Richmond. The home opener is set for Sept. 6 versus Pikeville (Ky.), and the Eagles will open PFL action on Sept. 20 at Davidson.
[adsenseyu4]
Comments
comments