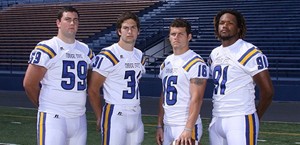 MOREHEAD, Ky. — The Morehead State football team kicks off its 2014 season at nationally-ranked Richmond on Saturday at 6 p.m. ET. The Eagles are beginning their 85th year of collegiate football.
Richmond, a member of the Colonial Athletic Association for football, enters the season ranked 20th in the Sports Network Preseason Poll and 24th in the Football Championship Subdivision Coaches Poll. The Spiders were 6-6 in 2013.
Morehead State finished 3-5 in the Pioneer Football League last season and 3-9 overall in Head Coach Rob Tenyer's first season.
Ways to follow the game:
LIVE VIDEO (PAY-PER-VIEW)/ LIVE AUDIO (CPU)/ LIVE AUDIO (mobile) /LIVE STATS /
[adsenseyu3]
Chuck Mraz (play-by-play), Jason Blanton (analyst) and Michael Gustin (sidelines) will call all the action on the newly-expanded Eagle Sports Network and MSUEagles.com. The pre-game show begins 30 minutes prior to kickoff, and the post-game show includes comments from Head Coach Rob Tenyer. Radio affiliates include WIVY-96.3 FM (Morehead), WMST-1150 AM & 106.9 FM (Mt. Sterling), WLGC-1520 AM (Ashland), WKYH-600 AM (Paintsville) and WCBJ-103.7 FM (Campton). A webcast of the game is available on Richmond SpiderTV for a fee. Game updates will also be available on Twitter and Facebook.
Game notes heading into the contest:
OH CAPTAIN, MY CAPTAIN
Senior slot receiver Brandon Bornhauser, senior offensive lineman Joshua Brunner, junior defensive lineman Ronald Cooper, and sophomore safety Dominic Iori have been selected permanent team captains in 2014. MSU will also designate game captains each week.
DIAPER DANDIES
The 2014 roster features 38 newcomers. Thirty-five of the new players are true freshmen, while three were mid-year transfers.
ROAD WARRIORS
After playing seven home games in 2013, the scheduled has reversed for the Eagles this season. MSU has five home games and seven road games.
TOUGH COMPETITION
The Richmond contest will mark the second consecutive season MSU has faced a nationally-ranked opponent. The Eagles lost to No. 25 Youngstown State last season. The Spiders are ranked 20th in the Sports Network Preseason Poll.
THE LEADERS ARE BACK
Morehead State returns its leading passer, rusher and receiver this season. Sophomore quarterback Austin Gahafer (263-of-425, 2,430 yds, 13 TDs), senior running back Rees Macshara (131 rushes, 534 yds, 4 TDs) and sophomore slot receiver Jake Raymond (56 catches, 644 yds, 2 TDs) are all back in the lineup this year.
BORNHAUSER IS A THREAT
Brandon Bornhauser was named a Preseason All-American by two organizations, is on the College Football Performance Watch List and was listed on the official Preseason All-Pioneer Football League Team. He led the team with nine touchdowns last year, including seven rushing scores.
HE CAN THROW IT
Austin Gahafer became the first true freshman in program history to throw for more than 2,000 yards last season. He started the final 10 games and recorded 200 or more passing yards in five contests.
PROTECTING THE QUARTERBACK
Morehead State ranked third in the Pioneer Football League in fewest sacks allowed per game (1.58). The MSU offensive line surrendered one or no sacks in six of the 12 games last year.
DOING IT IN THE RED ZONE
Morehead State converted 87 percent (33-of-38) of its chances in the red zone in 2013. The Eagles recorded a touchdown 28 times and nailed five field goals.
SPREADING THE WEALTH
Morehead State had 12 individuals attempt a rush in 2013 and 15 players catch at least one pass. Rees Macshara and sophomore running back Brandon Reeves combined for 203 carries, while Jake Raymond, senior wide receiver Kitaro Lewis, senior wide receiver Cyrus Strahm and Macshara each caught 40 or more passes.
THREE AMIGOS
Morehead State returns three of its top six tacklers from 2013. Senior safety Mike Jackson (72), junior defensive lineman Ronald Cooper (53) and sophomore linebacker Ryan Bennett (50) are back in the lineup.
DON'T THROW IT HIS WAY
Mike Jackson led the defense with three interceptions in 2013. Jackson picked off two passes at Jacksonville and added another at Valparaiso.
GETTING IN THE BACKFIELD
Morehead State recorded 78 tackles for loss last year, led by Ronald Cooper with 11. Junior defensive lineman Austin Hollingsworth was next among this season's returnees with six stops behind the line of scrimmage.
THE TAKEAWAY KIDS
Ten different Eagles forced a fumble last season. Cornerback John Coleman, who was a senior in 2013, led the way with three.
GOOD LUKE CHARM
Senior Luke Boyd connected on 9-of-13 field-goal attempts and 30-of-34 extra point tries last season. He made a field in eight of the 12 games, including a career long of 44 yards against Jacksonville and Campbell.
PAT THE PUNTER
Pat DiSalvio averaged 36.7 yards on 58 punts as a true freshman last season. He landed 13 inside the 20-yard line and recorded a season-best 52-yard boot at Drake.
EVERYONE KICKS
Besides Luke Boyd and Pat DiSalvio, Morehead State has two other kickers looking for action this year. Sophomore Matt Ward recorded one punt as a redshirt freshman last year, while freshman Shavi Bash is slated for kickoff duties.
OH SNAP
Junior Jakey Dunagan returns for his second season as the primary snapper on special teams. Senior Justin Cox could also see assignments at long snapper. Cox served as the primary snapper in 2012
Comments
comments