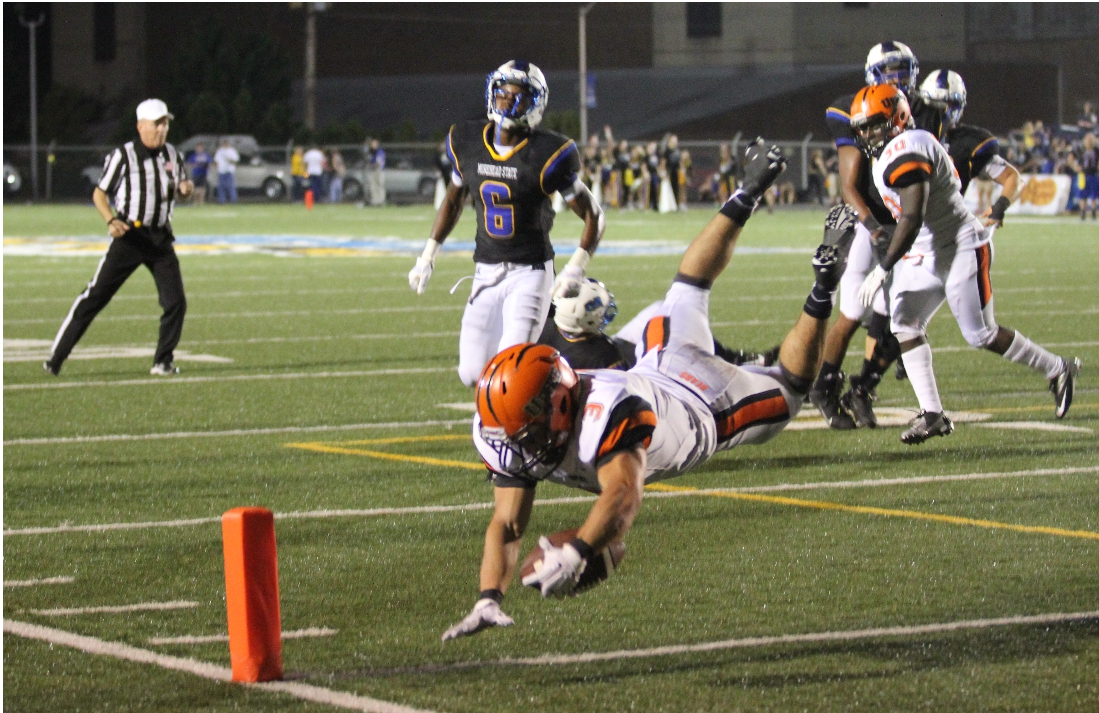 MOREHEAD, Ky. – Austin Gahafer threw for 277 yards and five touchdowns and the Morehead State offense converted two University of Pikeville turnovers into scoring drives on its way to a 49-36 win on Saturday night at Jayne Stadium.
UPIKE (1-1) had a terrific start, beginning with Demetrius Cowherd Jr.'s 50-yard kickoff return that set up Seth Millar to use one play for a 49-yard scamper into the end zone.
But lightning in the area, which had already delayed kickoff by 30 minutes, struck again and stalled the action for another 25.
Once play resumed, Gahafer was ready, orchestrating a 12-play, four-minute drive that ended with his nine-yard strike to Cyrus Strahm for a touchdown. UPIKE managed a 42-yard field goal from Damir Karapandzic on its next drive to go up 10-7, but the rest of the half belonged to the Eagles, outscoring the Bears 28-0 in the second quarter.
Millar was a bright spot for UPIKE, finishing with 134 yards on the ground and a program record-tying four touchdowns. Millar did all of that on just 15 carries, averaging nearly nine yards per attempt. Shawnta Zachary led the receivers with five catches for 86 yards and a touchdown.
Sani Warren, in his second collegiate start at quarterback, finished 13-for-20 for 192 yards with a touchdown and an interception. Cowherd Jr. shined as well, finishing with 163 kickoff-return yards on five attempts, while John Dudley Hilton paced the defense with 12 tackles, including nine solo stops.
Turnovers played a large role in MSU (1-1) building a comfortable lead in the first half.
Warren's interception at the end of the first quarter was turned into a 20-yard scoring strike from Gahafer to Jake Raymond. Then up 14-10, the Eagles recovered Shawntez Johnson's fumble and once again turned it into points on Lawrence Jones' eight-yard run on the sixth play of the drive.
Gahafer finished the half adding a 30-yard touchdown pass to Tanner Napier and another to Darius Pritchett in the final minute to go into halftime up 35-10.
MSU's momentum carried over to the second half as Gahafer led a 10-play opening drive that ended with a touchdown pass to Strahm to go up by 32. Then the Eagle offense stalled.
Quiet for over 30 minutes, UPIKE made a late push to get back in the game as Millar added his second rushing score at the end of the third quarter. Just one-yard out, Millar looked to be dropped for a big loss, but escaped and curled around for six.
Early in the fourth quarter, Millar found the end zone for a third time, ending a seven-play drive with a five yard run to make it 42-23 with 9:30 to play. Warren set up the score with a 36-yard heave to Aaron Jackson.
Then the duo made things even more interesting when they hooked up for a 24-yard score on the next drive. The Bears went for two, but couldn't convert, making the score 42-29 with just over four minutes left.
Pikeville's rally finally came to a close after its onside-kick attempt was scooped up by Brandon Bornhauser who sprinted in for a touchdown that helped seal the win for the Eagles. Millar added his fourth touchdown run of the game in the final minute, but it was too late to make up the difference.
Both teams finished with 439 yards of total offense, although UPIKE was much better on the ground at 247-162 with the Eagles leading the passing game 277-192. MSU had 29 first downs to UPIKE's 19 and finished with a plus-two in the turnover column with just one fumble.
UPIKE returns to action at 1:30 p.m. ET next Saturday with another non-conference matchup, hosting Edward Waters (Fla.) in the home opener at the Hambley Athletic Complex.
[adsenseyu2]
Comments
comments