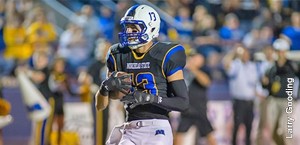 MOREHEAD, Ky. — Morehead State and Eastern Kentucky will meet for the 72nd time on the football field Saturday night when the Eagles travel to Richmond. Game time at Roy Kidd Stadium is set for 6 p.m. ET.
Morehead State is coming off a 49-36 home-opening win over Pikeville (Ky.) Saturday, while the Colonels upset Football Bowl Subdivision foe Miami (Ohio) 17-10. EKU, which is ranked 25th in this week's Football Championship Subdivision Coaches Poll, defeated MSU in Morehead last season. The last time the teams played in Richmond in 2012, EKU edged Morehead State 24-17.
Tickets are available by clicking here.
[adsenseyu2]
Ways to follow the game:
LIVE VIDEO | LIVE AUDIO (CPU) | LIVE AUDIO (mobile) |LIVE STATS |TWITTER | FACEBOOK
Chuck Mraz (play-by-play), Jason Blanton (analyst) and Michael Gustin (sidelines) will call all the action on the newly-expanded Eagle Sports Network and MSUEagles.com. The pre-game show begins 30 minutes prior to kickoff, and the post-game show includes comments from Head Coach Rob Tenyer. Radio affiliates include WIVY-96.3 FM (Morehead), WMST-1150 AM & 106.9 FM (Mt. Sterling), WLGC-1520 AM (Ashland), WKYH-600 AM (Paintsville) and WCBJ-103.7 FM (Campton). A webcast of the game is available on the OVC Digital Network for free. Game updates will also be available on Twitter and Facebook.
Game notes heading into the contest:
BEEN A LONG TIME
Morehead State's home opener versus Pikeville (Ky.) drew 8,918 fans to Jayne Stadium. That was the largest home crowd in the Pioneer Football League era (since 2001). The 2011 season opener against Kentucky Christian drew 8,648 fans.
INSIDE THE EKU SERIES
The Colonels own a 51-16-14 advantage in the series dating back to 1924. EKU has won 26 of the last 27 games in the series and eight in a row. The teams played each year when MSU was a football-playing member of the Ohio Valley Conference before the series was halted after 1995. MSU and EKU have now played three times since 2008. The last Eagle win was Nov. 17, 1990.
ROAD WARRIORS
After playing seven home games in 2013, the scheduled has reversed for the Eagles this season. MSU has five home games and seven road games. The Eagles do not return for a home game now until Oct. 4 versus Campbell.
TOUGH SCHEDULE
Morehead State is facing its second nationally-ranked opponent in three weeks. The Colonels are No. 25 in this week's FCS Coaches Poll. The Eagles opened the season at No. 20 Richmond.
KUDOS TO THE O-LINE
Morehead State has not allowed a sack in its first two games and hasn't given up a sack in its last nine quarters. The last sack against the Eagles came midway through the third period of the season finale last year versus Charlotte.
ACCOLADES FOR THE QB
Sophomore quarterback Austin Gahafer was named Pioneer Football League Co-Offensive Player of the Week and PFL Offensive Player of the Week by College Sports Madness. He completed 30-of-43 passes for five touchdowns against Pikeville (Ky.). Gahafer has tossed six touchdowns this season with no interceptions. He has six career 200-yard games.
A CY OF RELIEF
Senior wide receiver Cyrus Strahm leads the Eagle wideouts with 106 yards on 11 catches (53 yards per game). He caught two of Austin Gahafer's five touchdown passes versus Pikeville.
A FIRST TIME FOR EVERYTHING
Junior wide receiver Tanner Napier and sophomore wideout Darius Pritchett each hauled in their first career touchdowns versus Pikeville (Ky.). Napier was the recipient of a 30-yard score in the second quarter, while Pritchett followed five minutes later with a 19-yard touchdown catch.
BALANCING ACT
Morehead State ran 163 plays in its first two games. The Eagles threw the ball 56 percent (92 attempts) of the time and ran the ball 44 percent (71). MSU averages 374 total yards per game and 4.6 yards per play.
JUST CALL HIM L.J.
Freshman running back Lawrence Jones has scored a touchdown in both games so far. He caught a 20-yard TD in the season opener at Richmond and recorded his first career rushing score against Pikeville (Ky.).
A KNACK FOR THE BALL
Junior cornerback Eric Pugh, who wears No. 1, ranks first in the nation (FCS schools) in fumble recoveries. He has scooped up three opponent mistakes in the first two games.
THE KELLER INSTINCT
Junior linebacker Luke Keller was named PFL Defensive Player of the Week after his 11-tackle effort against Pikeville (Ky.). Keller also forced two fumbles, had two tackles for loss, a sack and a pass break up. He has a team-best 17 tackles in the opening two games.
JUSTIN TIME
Junior cornerback Justin Grier produced nearly equal stats in the first two games. He had seven tackles in the season opener at Richmond and recorded six stops against Pikeville (Ky.).
WINNING THE TURNOVER BATTLE
Morehead State is plus-4 in turnover margin in its first two games. The Eagles have forced three fumbles and have a pair of interceptions, both by senior safety Mike Jackson. In comparison, Morehead State was minus-3 in turnover margin after two games in 2013.
GOOD LUKE CHARM
Senior kicker Luke Boyd is 8-of-8 on extra-point tries and made his only field goal attempt at Richmond this season. He connected on 9-of-13 field-goal attempts and 30-of-34 PAT tries last season.
BORN TO RUN
Senior slot receiver Brandon Bornhauser garnered Preseason All-America honors from two organizations as a kick return specialist. He has averaged 25.3 yards on six returns in the first two games. Bornhauser returned a kick 45 yards for a touchdown against Pikeville (Ky.).
SHAVI BASHES THE BALL
Freshman kicker Shavi Bash has handled all the kickoff duties this season. He has 11 kickoffs for a 57.8-yard average with one touchback.
PAT THE PUNTER
Sophomore Pat DiSalvio notched three punts for a 43.7-yard average against Pikeville (Ky.). He has averaged 37.4 yards on 11 punts this season.
[adsenseyu4]
Comments
comments