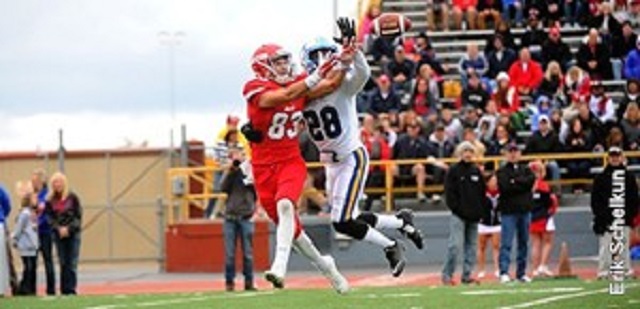 DAYTON, Ohio – Pioneer Football League leading rusher Connor Kacsor churned up 232 yards and scored four times to lead the Dayton football team to a 41-7 win over Morehead State Saturday at Welcome Stadium.
Kacsor scored on runs of 63, 61, 52 and 11 yards, capping all four of those Dayton drives of two plays or less. Dayton also added a 66-yard rushing TD late in the fourth period and scored all six times on the ground. The Flyers improved to 5-1 overall and 3-0 in the PFL with their sixth straight victory against MSU, which fell to 2-5 overall and 1-3 in the league.
Dayton finished with 443 rushing yards and 514 total yards.
"We were not mentally prepared to play today," Head Coach Rob Tenyer said. "We did not tackle very well, and we didn't play well at all. Dayton was more physical than us on both sides of the ball."
Morehead State generated 312 total offensive yards but turned the ball over twice, both leading to Flyer scores. Dayton ran 60 plays, which was 25 less than MSU, as the Flyers rushed the ball 46 times and only passed 14 times. The Eagles held a three-minute advantage in time of possession, but Morehead State was only 6-of-20 on third down opportunities.
Kacsor, who entered the game averaging 145.2 yards per outing, collected his third 200-yard game this year. He rushed just 10 times for a 23.2 average per carry.
Dayton built a 28-0 halftime lead and pushed it to 35-0 in the third quarter before MSU found the end zone. Sophomore slot receiver Jake Raymond hauled in a four-yard pass from sophomore quarterback Austin Gahafer with 51 seconds remaining in the third period. Raymond led the Eagles with 64 yards on five catches.
Gahafer was 20-of-29 for 155 yards and was intercepted once.
"We tried to play more up-tempo on offense today," Tenyer said. "I thought we did that, but the bottom line was we put ourselves in too many third-down situations. Twenty times on third down is too much, and it puts too much pressure on our offense."
Defensively, sophomore safety Brandon Louder had a team-best eight tackles. Senior safety Mike Jackson collected two tackles for loss, while sophomore safety Dominic Iori recorded his first interception of the year.
Chris Beaschler made a game-best 17 tackles for the hosts, including 10 solo stops.
Morehead State returns home to host PFL opponent Valparaiso on Saturday. Game time for "Excellence in Education" Day is 1 p.m. ET.

Comments
comments