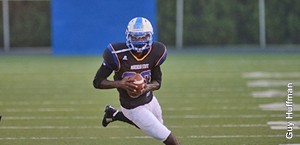 MOREHEAD, Ky. — The Morehead State football team returns to Jayne Stadium Saturday to host Campbell for the annual Homecoming game. Kickoff is at 1 p.m. ET.
Morehead State (2-2, 1-0 Pioneer Football League) will look for its first 2-0 start to the conference season since 2007. The Eagles defeated the Camels (1-3, 1-0) 45-36 in Buies Creek, N.C., last season.
Tickets, which are $15 for adults and $5 for children ages 2-12, are available by clicking here. Parking is $5.
[adsenseyu2]
Game notes heading into the contest:
AFTER THE BYE WEEK
Morehead State was idle last week. In the last six years, the Eagles are 2-4 in games following bye weeks.
TIME TO REVERSE THIS TREND
Saturday is the annual Homecoming contest for Morehead State. The Eagles are just 1-4 in the last five seasons on Homecoming. The lone win was a 70-28 defeat of Campbell in 2012.
THE SEVEN-YEAR ITCH
It has been seven years since Morehead State started Pioneer Football League play 2-0. That season, the Eagles defeated Dayton and Davidson before finishing 5-2 in the conference.
STATS AND STUFF
Morehead State ranks in PFL's top three in 10 statistical categories. MSU leads the conference in scoring offense (28.0), sacks allowed (2), punt return average (20.2) and turnover margin (+3). The Eagles rank second in passing offense (258.5), first downs (22.2), and third-down conversions (41.8 %). MSU is third in total offense (407.2), field goals (3-of-4) and time of possession (31:28).
O-LINE DOING ITS JOB
Morehead State leads the PFL and ranks fourth nationally (among Football Championship Subdivision schools) in sacks allowed. The Eagles have given up just two sacks in the first four games.
HE CAN THROW IT
Sophomore quarterback Austin Gahafer ranks fourth in the FCS in completions per game (26.5), 20th in passing touchdowns (8), 23rd in points responsible for (60) and 30th in total passing yards (999).
OVER 3,000
Austin Gahafer moved above the 3,000-yard mark for his career in the game at Eastern Kentucky. In 15 games, he has thrown for 3,429 yards (228.6 per game) and 21 touchdowns. He is ahead of the pace of current assistant coach and MSU all-time passing leader Zach Lewis. Lewis had 2,947 yards after his 15th career game and finished with 10,251 yards to rank second in PFL history.
CHURNING UP YARDS
The Morehead State offense generated a season-best 549 total yards at Davidson on Sept. 20. In the last two meetings versus Campbell, the MSU offense has produced 584.5 yards per outing. In the last four seasons, MSU has recorded 500 or more total yards 10 times.
THE MAC ATTACK
Senior running back Rees Macshara rushed for a season-best 129 yards on 27 carries at Davidson. He now has eight career 100-yard games.
YOU CAN COUNT ON HIM
Senior offensive lineman Joshua Brunner has made 30 consecutive starts dating back to the 2011 season. The last time Brunner did not start was Oct. 22, 2011, versus Dayton.
THE CHAIN CREWS GET THEIR EXERCISE
Morehead State averages a PFL-best 24.6 first downs per game. The Eagles rank second in the league in third-down conversions, moving the chains 42 percent of the time.
HE'S NUMBER 1
Junior cornerback Eric Pugh, who wears No. 1, ranks first in the nation (FCS schools) in fumble recoveries. He has scooped up three opponent mistakes in the first four games.
THE KELLER INSTINCT
Junior linebacker Luke Keller was named PFL Defensive Player of the Week after his 11-tackle effort against Pikeville (Ky.). He leads the Eagles with 30 total tackles, including a team-best 18 solo stops. He ranks 12th in the league with 7.5 tackles per game.
CONSISTENT IN THE BACKFIELD
The defense has recorded six tackles for loss in each of the last three games. Junior defensive lineman Ronald Cooper tallied a career-best 2.5 tackles for loss in the game at Davidson.
A PICK A GAME
MSU has intercepted a pass in all four games this season. Senior safety Mike Jackson has two picks, while freshmen defensive backs Mel'on Barnes (vs. Eastern Kentucky) and Braylyn Cook (vs. Davidson) recorded their first career interceptions.
WINNING THE TURNOVER BATTLE
Morehead State leads the PFL and ranks 21st nationally in turnover margin. The Eagles are plus-3 on takeaways. After four games last season, MSU was minus-5.
JUSTIN TIME
Junior slot receiver and return specialist Justin Cornwall ranks third nationally in punt return average (20.3). He had a career-best 58-yard return at Davidson that led to an MSU touchdown.
BORN TO RUN
Senior slot receiver Brandon Bornhauser garnered Preseason All-America honors from two organizations as a kick return specialist. He has averaged a team-best 22.9 yards per return so far. Bornhauser returned a Pikeville (Ky.) onside attempt 45 yards for a touchdown on Sept. 6.
GOOD LUKE CHARM
Senior kicker Luke Boyd has nailed 13-of-14 point-after tries this year. His total ranks first in the PFL.
Comments
comments