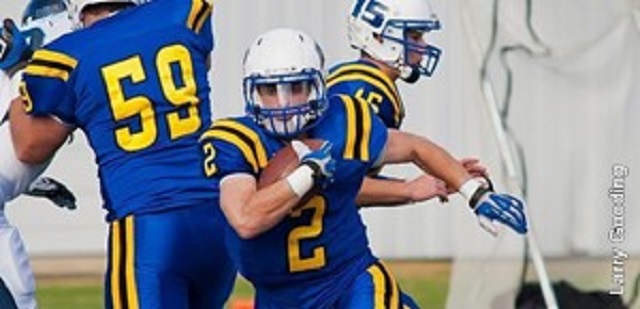 MOREHEAD, Ky. — Morehead State's football team scored the final 21 points and intercepted Stetson twice in the end zone Saturday as the Eagles closed the home portion of the 2014 schedule with a 41-18 victory.
The Eagles improved to 4-7 overall and 3-5 in the Pioneer Football League, while the Hatters saw their three-game winning streak halted as they dipped to 5-6 overall and 3-4 in the league. MSU finished 3-2 at home in 2014. Before the game, MSU honored its nine senior student-athletes.
"Offensively, we had a great identity today," Head Coach Rob Tenyer said. "We had a lot of guys make plays, including many of our seniors, and I was especially proud of our defense. That's what it is all about. We played with big emotions today and ran to the football."
Senior running back Rees Macshara rushed for 126 yards, while sophomore quarterback Austin Gahafer tossed three touchdowns and threw for 314 yards on a 32-of-40 effort. Junior corner back Justin Grier intercepted a pair of passes, including one in the end zone, and senior safety Michael Jackson also picked off a pass in the end zone.
Stetson scored with 10:01 left in the third period to trim the MSU lead to 20-18, but Gahafer found junior slot receiver Justin Cornwall on a 32-yard touchdown and senior slot man Brandon Bornhauser on a 13-yard strike. Freshman running back Lawrence Jones crashed in from four yards away for the third MSU score in the second half.
Grier picked off Hatter quarterback Ryan Tentler with less than eight minutes remaining to halt a Stetson drive deep in MSU territory, and Jackson thwarted the Hatter's next drive with his takeaway in the end zone.
Macshara caught a 30-yard TD pass from Gahafer in the first quarter, and junior running back Rob Harden cashed in with a three-yard scoring run. Bornhauser added a two-yard scoring scramble, and MSU led 20-12 at the half. Stetson climbed as close as it got when Ryan Powers returned a botched punt attempt 25 yards for a score early in the third period.
The Eagle defense held Stetson to 344 total yards, their best effort of the season. The MSU offense generated 429 yards on 76 plays. Morehead State was 9-of-14 on third-down conversions and scored on all four of its red zone chances.
Cole Mazza led the Hatters with 118 yards on the ground. Tentler was 10-of-24 for 112 yards.
Junior linebacker Luke Keller registered a team-best 10 tackles, while fellow linebacker Matthew Brewer recorded 1.5 tackles for loss. PFL tackle leader Donald Payne made a game-best 18 stops for Stetson, including three tackles in the backfield.
Morehead State concludes the season next Saturday at Charlotte. Game time is set for Noon ET.
[adsenseyu2]
Comments
comments