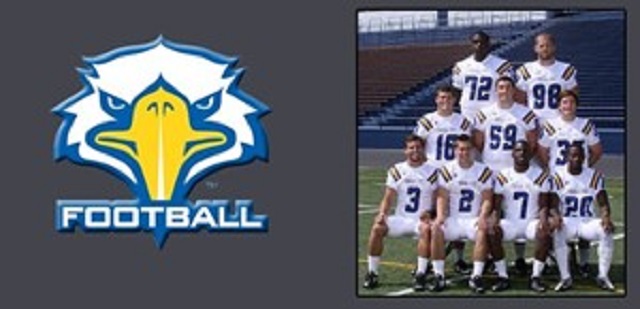 MOREHEAD, Ky. — The Morehead State football team wraps up its home schedule on Saturday at 1 p.m. as Stetson visits for a Pioneer League contest.
Saturday is Senior Day, and the Eagles will honor nine members of the program who will play in their final home game. It is also Salute to Armed Services Day. All current and former members of any military branch, and their families, can get tickets for $1.
Morehead State (3-7, 2-5 PFL) has the second-ranked offense in the league. Stetson (5-5, 3-3) features the conference's top tackler, safety Donald Payne, who has 150 stops this season.
General admission tickets, which are $12 for adults and $3 for children ages 2-12, are available by clicking here. General parking is $5.
Dan Manley (play-by-play), Michael Gustin (analyst) and Ivan Ralls (sidelines) will call all the action on the newly-expanded Eagle Sports Network and MSUEagles.com. The Larry Fannin Countdown to Kickoff Show begins 30 minutes prior to kickoff, and the post-game show includes comments from Head Coach Rob Tenyer. Radio affiliates include WIVY-96.3 FM (Morehead), WMST-1150 AM & 106.9 FM (Mt. Sterling), WLGC-1520 AM (Ashland), WKYH-600 AM (Paintsville) and WCBJ-103.7 FM (Campton). The game will also be shown live on the Ohio Valley Conference Digital Network and on FOXY-21 in the Eastern Kentucky area. Game updates will also be available throughout the day on Twitter and Facebook.
[adsenseyu2]
Game notes heading into the contest:
SENIOR DAY
Morehead State has nine seniors who are playing in their final home game Saturday. The senior class includes offensive players Rees Macshara, Brandon Bornhauser, Lawrence Massey, Cyrus Strahm and Joshua Brunner. Defensive seniors include Morris Henry, Mike Jackson and Justin Cox. Luke Boyd is the lone senior specialist.
INSIDE THE STETSON SERIES
Morehead State and Stetson have met only once on the gridiron. In 1953, Stetson defeated the Eagles 41-0 in DeLand, Fla. Stetson dropped its football program in 1956 and reinstated it last year.
CROWD SUPPORT
Morehead State leads the Pioneer Football League in home attendance. MSU's first four games at Jayne Stadium have drawn an average of 6,021 fans.
COMEBACK KIDS
Morehead State has trailed in all three of its wins this year. The Eagles fell behind at Davidson 18-7 in the first half before rallying for a 40-32 victory. MSU erased a 17-point deficit to edge Valparaiso 48-47.
FINISHING DRIVES
Morehead State is 17-of-19 in red-zone chances in its three victories. Overall, the Eagles score 80 percent (33-of-41) of the time inside the opponents' 20-yard line.
GOING FOR IT
MSU leads the PFL with 19 fourth-down conversions this year. The Eagles have gone for it 36 times, converting 56 percent of the time.
AIR IT OUT
Morehead State leads the PFL in pass attempts (448) and completions (277). The Eagles average 285 passing yards per game to rank second in the conference.
700-CLUB
Morehead State's 706 total yards at Butler were the fifth-highest single-game total in the Football Championship Subdivision this season. It marked MSU's highest output against a Division I team since 1997 and was just 47 yards shy of the program record of 753 set against Kentucky Christian in 2011.
NEARING 5,000
Sophomore quarterback Austin Gahafer is nearing the 5,000-yard mark for his career. In 21 games, he has thrown for 4,820 yards (230 per game) and 31 touchdowns. He has recorded at least 200 yards passing 12 times.
THREE OVER 100
Juniors Justin Cornwall and Tanner Napier and sophomore Jake Raymond all recorded 100+ yard receiving games versus Butler. Cornwall led the wideouts with 108 yards and a pair of scores, while Raymond and Napier each had 107 and a touchdown.
EVERYBODY LOVES RAYMOND
Jake Raymond has caught a touchdown pass in four straight games. In those contests, he caught 30 passes and averaged 86.5 yards per game. Raymond has 1,240 career receiving yards.
THE KELLER INSTINCT
Junior linebacker Luke Keller leads Morehead State with 75 total tackles, including 38 solo stops. In the last three games, Keller has recorded five tackles for loss, and he now leads the team with 10 tackles in the backfield.
AN i FOR THE BALL
Sophomore safety Dominic Iori led the Eagles with 10 total tackles at San Diego and also recovered a fumble. He has 45 total stops this year and is tied for the team lead with two interceptions.
PICKIN PARLOR
The defense has recorded an interception in all but two games this season.
WORTH THE WAIT
Junior defensive lineman Austin Hollingsworth is expected to return to action this weekend after missing the first 10 games with injuries. In 2013, he notched six tackles for loss and led the squad with four quarterback hurries.
GOOD LUKE CHARM
Luke Boyd has nailed 34-of-36 point-after tries this year. His PAT percentage ranks fourth in the PFL. He also has seven field goals this year and is 16-of-22 in his career.
SHAVI BASHES THE BALL
Freshman kicker Shavi Bash has handled the kickoff duties this year. He averages 54.3 yards per boot and has landed three touchbacks. Bash has also made seven tackles this season.
PAT THE PUNTER
Sophomore Pat DiSalvio has averaged 38.1 yards on 60 punts this year. He has landed nine inside the 20-yard line and has three bombs of 50+ yards, including a career-best 68-yard blast versus Jacksonville.
RETURN TO SENDER
Morehead State ranks first in the PFL in punt return average (15 yads per return).Junior slot receiver Justin Cornwall has returned every punt for the Eagles this season.
Comments
comments