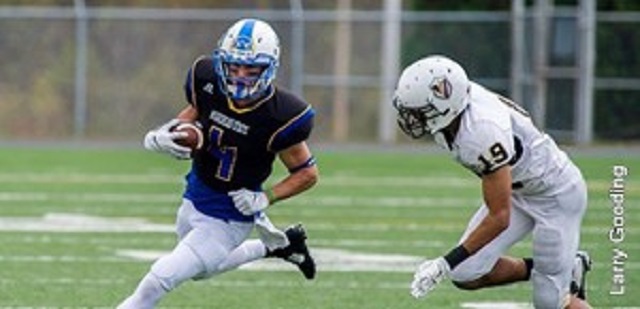 MOREHEAD, Ky. — Heading west this week, the Morehead State football team will match up with host San Diego in a Pioneer Football League contest Saturday at 4 p.m. ET.
The Eagles (3-6, 2-4 PFL) will look for the program's inaugural win over the Toreros (7-1, 5-1). MSU is coming off one its top offensive outputs in recent history. The Eagles generated 706 yards in a 62-52 setback at Butler last weekend.
Jason Blanton (play-by-play) and Mike Gustin (analyst) will call all the action on the newly-expanded Eagle Sports Network and MSUEagles.com. The pre-game show begins 30 minutes prior to kickoff, and the post-game show includes comments from Head Coach Rob Tenyer. Radio affiliates include WIVY-96.3 FM (Morehead – flagship), WMST-1150 AM & 106.9 FM (Mt. Sterling), WLGC-1520 AM (Ashland), WKYH-600 AM (Paintsville) and WCBJ-103.7 FM (Campton). Live stats will be running throughout the contest, and a webcast of the game is available on USDToreros.com. Game updates will also be available on Twitter and Facebook.
[adsenseyu2]
Game notes heading into the contest:
INSIDE THE SAN DIEGO SERIES
San Diego has won all nine meetings in the series, which began with the 2005 Pioneer Football League championship game in San Diego. In the last three meetings, the Toreros have averaged 48.3 points.
CROWD SUPPORT
Morehead State leads the Pioneer Football League in home attendance. MSU's first four games at Jayne Stadium have drawn an average of 6,021 fans.
COMEBACK KIDS
Morehead State has trailed in all three of its wins this year. The Eagles fell behind at Davidson 18-7 in the first half before rallying for a 40-32 victory. MSU erased a 17-point deficit to edge Valparaiso 48-47.
FINISHING DRIVES
Morehead State is 17-of-19 in red-zone chances in its three victories. Overall, the Eagles score 82 percent (32-of-39) of the time inside the opponents' 20-yard line.
GOING FOR IT
MSU leads the PFL with 19 fourth-down conversions this year. The Eagles have gone for it 33 times, converting 58 percent of the time.
EIGHT-MINUTE WORKOUT
Morehead State's average time of possession in the first through third quarters has been nearly identical. MSU averages 8:10 in the opening period, 8:11 in the second quarter and 8:09 in the third stanza. The Eagles hold the ball for an overall average of 31:14 per game.
WHAT A DAY
A pair of MSU quarterbacks combined for a school-record 591 passing yards and 65 attempts at Butler. Sophomore Austin Gahafer threw for 333 yards, all in the first half, while freshman Jack Sherry notched a career-best 258 yards, all in the second half.
700-CLUB
Morehead State's 706 total yards at Butler were the fifth-highest single-game total in the Football Championship Subdivision this season. It marked MSU's highest output against a Division I team since 1997 and was just 47 yards shy of the program record of 753 set against Kentucky Christian in 2011.
AUSTIN HAS NO LIMITS
Austin Gahafer moved above the 4,000-yard mark for his career in the game versus Valparaiso. In 21 games, he has thrown for 4,605 yards (230 per game) and 29 touchdowns. He has recorded at least 200 yards passing 11 times.
THREE OVER 100
Juniors Justin Cornwall and Tanner Napier and sophomore Jake Raymond all recorded 100+ yard receiving games versus Butler. Cornwall led the wideouts with 108 yards and a pair of scores, while Raymond and Napier each had 107 and a touchdown.
EVERYBODY LOVES RAYMOND
Jake Raymond has averaged 111.5 yards receiving in his last two games. He hauled in 19 catches in those two contests and scored in both. Raymond has now caught a touchdown pass in three straight games.
THE KELLER INSTINCT
Junior linebacker Luke Keller leads Morehead State with 67 total tackles, including 33 solo stops. He has two double-digit games this year (11 vs. Pikeville [Ky.] and 10 vs. Valparaiso).
STOP 'EM IN THE BACKFIELD
Morehead State has tallied 49 tackles for loss this season. Luke Keller and junior defensive lineman Ronald Cooper lead the team with eight.
PICKIN PARLOR
The defense has recorded an interception in all but two games this season.
BE LIKE MIKE
Senior safety Mike Jackson blocked a PAT attempt at Butler. Jackson now has three career blocks, notching one as a sophomore, junior and senior.
GOOD LUKE CHARM
Senior kicker Luke Boyd has nailed 30-of-32 point-after tries this year. His PAT percentage ranks fourth in the PFL. He also has seven field goals this year and is 16-of-22 in his career.
SHAVI BASHES THE BALL
Freshman kicker Shavi Bash has handled the kickoff duties this year. He averages 54.0 yards per boot and has landed three touchbacks. Bash has also made seven tackles this season.
PAT THE PUNTER
Sophomore Pat DiSalvio has averaged 38.0 yards on 52 punts this year. He has landed seven inside the 20-yard line and has three bombs of 50+ yards, including a career-best 68-yard blast versus Jacksonville.
JUSTIN TIME
Junior slot receiver Justin Cornwall ranks second in the PFL in kick returns, averaging 22.8 per run-back. In three of the last four games, he returned at least one kickoff for more than 30 yards.
LET'S GET THAT CORRECTED
The special teams units have allowed four kickoff or punt returns for touchdowns this season.
Comments
comments