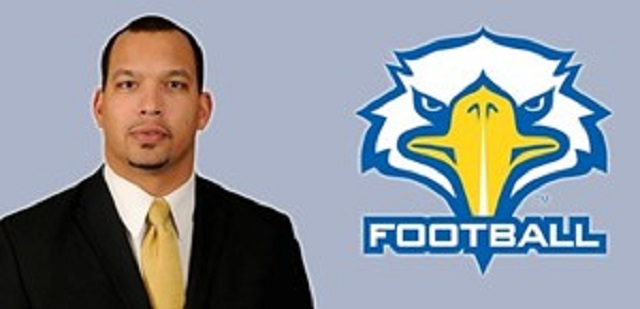 MOREHEAD, Ky. – Dontae Wright, who has served as Morehead State football's defensive line coach and recruiting coordinator the past two seasons, has been promoted to defensive coordinator.
A native of Louisa, Ky., Wright has also coached at Kentucky, North Alabama and Centre (Ky.).
"We have a special group of young men on this team and specifically on the defensive side of the ball," Wright said. "They are hungry and eager to get better and put a product on the field that this university can be proud of. My excitement level for this wonderful opportunity is off the charts."
Wright came to Morehead State from Centre, a Division III school, where he coached three all-conference selections and helped the Colonels to six victories in 2012.
"Dontae possesses a gravitating personality, and I am confident he can develop an identity for our defensive unit," Head Coach Rob Tenyer said. "I'm also confident that Dontae will establish toughness and discipline, which will allow us to be more consistent on defense."
Wright spent the 2010 and 2011 campaigns as the defensive line coach at North Alabama. The Lions tallied an 18-7 record and made NCAA Championship second-round appearances both years. He mentored four all-conference performers and one All-American at UNA.
He served as a graduate assistant at Kentucky from 2007-09. Wright worked with the linebackers in 2007 and the defensive line in 2008 and 2009. The Wildcats made two Music City Bowl appearances and earned one Liberty Bowl berth in his three years.
"We want to establish an identity as a defense," Wright said. "We want people to watch us and be in awe at how hard we play. We also want to become better against the run. We need to have a better understanding of the defense as a whole so we can limit big plays, and we have to create more opportunities for turnovers."
As a player, Wright was part of two Mid-American Conference East Division championship teams at Miami University. The RedHawks won the conference outright in 2003 and played in the GMAC Bowl. The team won a division crown in 2004 and participated in the Independence Bowl.
Wright earned four letters at Miami from 2003-06 and earned a bachelor's degree in physical education from the university in 2007. A teammate of NFL star Ben Roethlisberger at Miami, Wright started at linebacker his senior year and also played on special teams.
"I love to mentor and lead young men, not only in football, but more importantly in life," Wright added. "That is exactly why this staff and I will do everything in our power to help them achieve all their goals, both on and off the field."
Wright played both quarterback and safety at Lawrence County (Ky.) High School. The Bulldogs went 40-10 during his prep career, and he was an all-state selection as a senior.
"We have to give our offense four or five more possessions a game," Wright said. "Our offense traditionally has been one of the top units in the league, and I see no reason for that to change any time soon."
Comments
comments