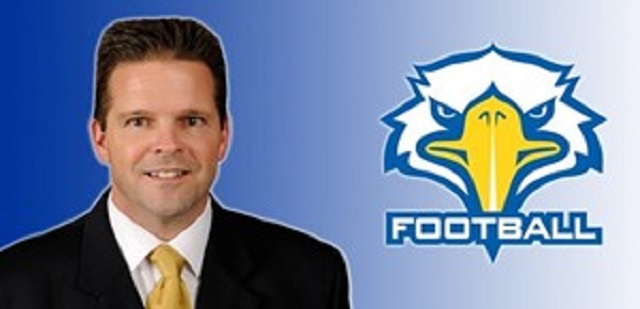 MOREHEAD, Ky. — Craig Mullins, who spent the past two football seasons as Morehead State's offensive coordinator and quarterbacks coach, lost his battle with cancer on Monday morning. He was 45. The MSU athletic department send its deepest condolences to his family and friends.
"We are deeply saddened by Craig's passing," Director of Athletics Brian Hutchinson said. "Our thoughts and prayers go out to his family and friends. Craig was a terrific person, and we are grateful for the time he spent on Morehead State's football staff. He was liked and respected by everyone."
Mullins is survived by his wife, Heidi, and two sons, Cade and Coy. He also leaves behind several extended family members and many friends. Funeral arrangements will be announced via MSUEagles.com, Twitter.com/MSUEagles and Facebook.com/MSUEagles once they are finalized.
"I have lost one of my best friends," Head Football Coach Rob Tenyer said. "Craig was a great husband, father and coach. He was a humble man with integrity who touched everyone he crossed paths with. The MSU football family sends its thoughts and prayers to Craig's family and friends."
Mullins, who had more than 20 years of coaching experience, joined the Morehead State staff prior to the 2013 season. He previously spent 16 years as the offensive coordinator and quarterbacks coach at NAIA member Georgetown (Ky.), where he helped the Tigers to a 155-36 record (.812).
Georgetown claimed two national championships (2000, 2001) and was a four-time national finalist (1999, 2000, 2001, 2002) with Mullins on its staff. He also served as the program's head strength coach and was a professor of kinesiology.
Mullins was named the American Football Coaches Association NAIA Assistant Coach of the Year in 2011 and AFCA NAIA Coordinator of the Year in 1999. He also coached the Mid-South Conference and NAIA Player of the Year from 1999-2001.
Before returning to his alma mater, Mullins served as the offensive coordinator and quarterbacks coach at Division II program California (Pa.) from 1993-96. He also spent time as an assistant coach at Ryle High School (Ky.) in 1992 and 1996.
A four-year letterwinner at Georgetown, Mullins earned three all-conference selections and two Academic All-America awards from 1987-90. He earned a bachelor's degree from Georgetown in 1991, before going on to earn a master's and certification in special education from Cal-Pa.
Mullins, a native of Ft. Thomas, Ky., was inducted into the Northern Kentucky Athletic Directors Hall of Fame in 2004.
Comments
comments