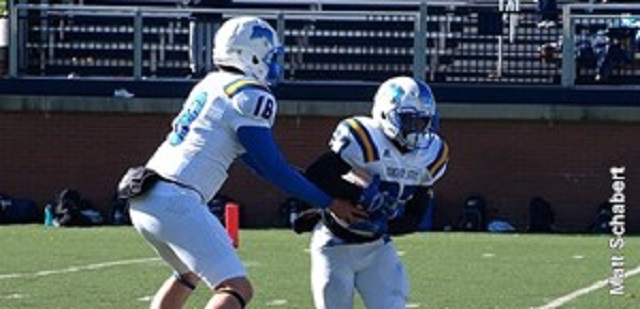 INDIANAPOLIS, Ind. — Despite gaining a season-best 706 total offensive yards, the Morehead State football team lost a 62-52 Pioneer Football League contest at Butler Saturday. The teams combined for seven touchdown plays of 50+ yards in the Butler Bowl.
The hosts improved to 4-5 overall and 2-4 in the PFL, while Morehead State dripped to 3-6 overall and 2-4 in the league. MSU led 20-7 after the opening quarter but was outscored 55-32 the rest of the way.
The 706 yards were the most since a school-record 753-yard performance against Kentucky Christian on Sept. 1, 2011. Today's output was the highest against a Division I opponent since 727 versus Valparaiso in 1997.
"We had a great day offensively for the second straight week," Head Coach Rob Tenyer said. "But it is really disappointing that we aren't getting it done on defensively. When we gain that many yards, we should be able to come out with a win."
Butler running back Sam Shrader rushed for a career-best 162 yards and four touchdowns, including 68 and 55-yard scores. Quarterback Malcolm Weaver scored twice on the ground and threw for a touchdown.
A pair of MSU quarterbacks combined for a single-game school-record 591 passing yards. Sophomore Austin Gahafer was 24-of-33 for 333 yards and three touchdowns, all in the first half, before leaving with an injury. Freshman Jack Sherry registered a career-best 258 yards and a trio of touchdowns, all in the second half, on a 21-of-32 effort. Three receivers, juniors Justin Cornwall (108) and Tanner Napier (107) and sophomore Jake Raymond all recorded 100-yard games.
"I really liked the way Jack came in and had a nice performance today in a tough situation," Tenyer said. "He is very smart, and he understands what we try to accomplish on offense. We'll have to evaluate Austin this week. He had a great game going and executed our game plan."
Freshman tailback Lawrence Jones rushed for a career-best 98 yards and scored once.
The Eagles out-gained the Bulldogs 706-416, but Butler also scored on a 25-yard interception return in the first half and an 80-yard punt return in the second half after the Eagles cut the contest to 48-38. Three other scores came on the first play of a possession.
Five different receivers hauled in the six TD passes. Cornwall had a career-long 70-yard score and a five-yard connection. Napier and Gahafer paired up for a career-best 80-yard TD in the first quarter. Raymond, senior wide receiver Cyrus Strahm and junior wideout Shade Whitfield each caught one as well.
Sharader also added 21 and four-yard scoring rushes. He entered the game with just 339 total yards in Butler's first eight contests. Derek O'Connor had an 18-yard TD catch from Weaver and returned the punt for a score.
Senior safety Mike Jackson led the defense with nine total tackles, and he also blocked an extra-point attempt. Junior linebacker Luke Keller had eight tackles, including a game-best 1.5 tackles for loss.
Morehead State held an advantage in time of possession (34:44-25:16) but turned the ball over three times, including interceptions by Gahafer and Sherry.
Morehead State travels to Sam Diego Saturday. Game time at Torero Stadium is set for 4 p.m. ET.
[adsenseyu2]
Comments
comments