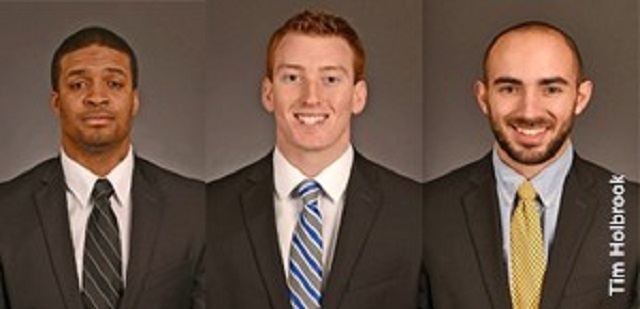 MOREHEAD, Ky. – The Morehead State football program has added Andre Crenshaw, Adam Mueller and Jameson Stephens to its coaching staff.
Crenshaw, a former running back at Oregon, will coach the MSU running backs. Mueller, a three-year long-snapper at Connecticut, will assist with the defensive line, and Stephens, a former wideout at Centre (Ky.), will assist with the wide receivers.
Crenshaw comes to MSU after serving two years as a graduate assistant at Dakota Wesleyan in Mitchell, S.D. He coached Francois Barnaud, who set the school's career rushing mark (3,302) in only two seasons. Barnaud led all NAIA running backs with 1,893 yards as a junior in 2013. Crenshaw also served two years as a running back coach at the Riggs Football Academy in Sioux Falls, S.D.
A native of Lancaster, Calif., Crenshaw rushed for more than 500 yards and accumulated more than 1,000 career all-purpose yards during a four-year (2006-09) career at Oregon. He rushed for a career-best 133 yards and two touchdowns at Washington as a sophomore in 2007. He totaled more than 1,200 yards and 13 touchdowns on the ground as a senior at Antelope Valley High School.
"I'm excited to be a part of the Morehead State family and even more excited to work with a very talented running backs group," Crenshaw said. "This is a huge step for me in my career as a coach, and I am glad I get this opportunity with this great staff and this tremendous group of athletes."
He earned his bachelor's degree in sociology from Oregon in 2010 and is working towards his master's degree in educational policy and administration from Dakota Wesleyan.
Mueller recently finished his career at Connecticut, where he was the team's primary long snapper in 2011, 2012 and 2013. He helped the Husky special teams unit convert 36 field goals and 51 extra-point attempts in his career, including all 22 PATs in 2012.
Mueller, a native of Park Ridge, Ill., was named to the 2011 and 2012 Big East Conference All-Academic Team and to the 2013 American Athletic Conference All-Academic Team. Mueller was a semifinalist for the 2014 William V. Campbell Trophy, honoring the nation's top scholar-athlete, and nominee for the 2014 Danny Wuerffel Trophy.
A product of Maine Township South High School, he was the starting center for a squad that won the 2008 and 2009 8A state titles. His 2009 team finished fifth in the nation, according to the USA Today poll.
"I am extremely thrilled to have the opportunity to be a part of the MSU football tradition and the great staff that (Head) Coach (Rob) Tenyer has assembled," Mueller said. "I can't wait to get out on the field with these student-athletes. Our expectations for our young men will be nothing less than a championship effort on and off the playing field."
Mueller was a football representative on the Connecticut student-athlete advisory committee in 2014 and volunteered his time with community outreach programs Husky Reach and Goal Line. Both programs allowed student-athletes to mentor elementary-age children.
He received his bachelor's degree in history and communications from Connecticut in 2014.
A Roswell, Ga., native, Stephens served as the wide receivers and tight ends coach at Centre (Ky.) from 2012-14. He helped Max Mazza compile a school-record 1,153 yards in 2014 when the Colonels finished 10-1.
During his playing career at Centre (2008-11), he served as a team captain in 2011 and helped guide Centre to its first Division III playoff appearance.
He attended Lassiter High School. Stephens graduated from Centre in 2012 with his bachelor's degree in psychology.
"I am extremely excited to join a great coaching staff in doing whatever possible to make this a championship team," Stephens said "I believe Coach Tenyer has put together a system that will lead to a lot of success, and I can't wait to help make this the best experience possible for our players."
Comments
comments