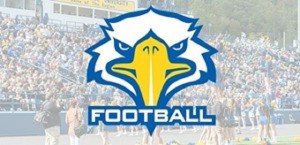 MOREHEAD, Ky. – The Morehead State football program has finalized its 2015 schedule. The 11-game slate features five home games and six road contests.
Game times will be announced at a later date. Check MSUEagles.com, @MSUAthletics (Twitter) and MSUEagles (Facebook) for updates.
MSU opens the season at James Madison on Sept. 5. The Dukes advanced to the Football Championship Subdivision playoffs in 2014. The Eagles travel a similar route the following week to face Virginia Military Institute on Sept. 12.
"The 2015 schedule is challenging, as always, especially with the first two games on the road at very tough FCS programs," Head Coach Rob Tenyer said.
Morehead State will host non-conference foe Kentucky Christian (Sept. 19) and Pioneer Football League opponents Davidson (Sept. 26), Butler (Oct. 10), Drake (Oct. 31) and Dayton (Nov. 7).
Family Weekend is set for the KCU game, and Homecoming is slated for the Butler contest.
PFL road games include Jacksonville (Oct. 3), Campbell (Oct. 24), Valparaiso (Nov. 14) and Marist (Nov. 21). MSU has not faced Marist since 2010 when the Red Foxes rotated off the Eagles' PFL schedule.
"The conference schedule will be demanding, playing three recent PFL champions in Butler, Drake and Marist," Tenyer said. "It is also exciting for our players because the schedule offers our team the opportunity to host two of them."
Morehead State finished 4-8 overall and 3-5 in the PFL in 2014.
Morehead State begins spring workouts on March 11. The spring game is scheduled for Saturday, April 11.
"Our players and coaches are looking forward to a memorable 2015 season," Tenyer added.
Comments
comments